Negotiating with Giants
Negotiating with Giants
by Peter D. Johnston
Negotiating with Giants: Get What You Want Against the Odds
How do you negotiate with Wal-Mart? With America's President over going to war? An improved education for your kids? A cleaner environment? An ethical issue with an intimidating boss? An unequal personal relationship? A Super Bowl victory for a team of losers? A capital infusion for a start-up venture? Better healthcare for your family? The return of stolen treasure, lost rights, or a canceled credit card? Your survival if you're taken hostage by an armed killer?
In this pioneering book, Peter D. Johnston surprises us with answers to these far-flung questions, laying out unique strategies and concrete steps we can all use to handle the growing number of giants in our personal and professional lives. As readers, we travel across time — through riveting, real-life stories — uncovering the secrets of successful smaller players.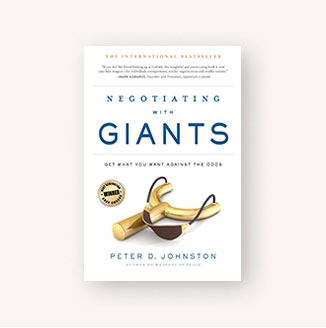 Negotiating with Giants
by Peter D. Johnston
We learn what giants care about, what makes them act, and how to: choose the best conditions for influencing them; attract our giants or penetrate giant organizations; use different helpers to get what we want; keep our ideas safe and protect ourselves; exploit the mainstream media or our own media; structure giant deals to create as much value as possible; increase the likelihood our giants will live up to their commitments; talk to our giants eye-to-eye in the most difficult circumstances; and take advantage of their strengths and our weaknesses.
Remember how David used an ancient, ragged slingshot to defeat Goliath with a stone? Well, that won't work anymore. Faced with the huge size and might of modern-day Goliaths, our slingshots must be golden—solid, malleable, polished, and precise—aiming to work with our giants before getting aggressive. We won't use stones as ammunition. Instead, we'll use the piercing secrets of those who've already achieved success so we, too, can get what we want against the odds.
The Author of Negotiating with Giants
Peter D. Johnston
Through Negotiating with Giants, Peter D. Johnston relays his negotiation expertise, which has been formally recognized by the United States Government for its positive economic and social impact, domestically and abroad. Peter is the Managing Director of Negotiation Advice International (NAI) and his seminal ideas lie at the heart of NAI's unique approaches and outstanding results for our clients.
Peter has advised CEOs on critical transactions, guided senior government officials in the face of national conflicts, and helped entire industries initiate and manage change. As one of the world's foremost negotiation experts, he has worked with clients ranging from the United Nations, World Bank, and Heads of State, to corporations such as HSBC, Intel, Johnson & Johnson, Microsoft, and Suez, as well as high-profile unions, individuals and families.
Peter quietly collaborates with clients of all sizes on important and distinctly challenging negotiations, conflicts, and decisions. If helpful, he goes to the negotiation table on their behalf, while enhancing the effectiveness of organizations in negotiating both internally and externally and making good decisions. Peter also mediates disputes, teaches tailored negotiation seminars, and is a sought-after negotiation speaker. His ideas emphasize efforts away from the negotiation table to start, better positioning negotiators once they're actually at the table.
Reviews of Negotiating with Giants
"Very valuable…What you need to know to get a good deal on just about anything."
"…negotiations expert Peter D. Johnston has written a highly readable book geared to helping underdogs find practical ways to negotiate with larger, more powerful competitors."
"Whereas Getting to Yes provided the broad strokes of negotiation strategy, Mr. Johnston uses a finer brush to fill in an important corner of the canvas… Fans of author Robert Greene's use of historical anecdotes will enjoy a similarly informative and engaging storytelling style in Negotiating with Giants… The book, with its golden slingshot-emblazoned cover, is selling like hotcakes at airport bookstores."
"Peter Johnston speaks with giants. He also sizes them up, figures out their weaknesses, then goes for the kill in a polite, well-informed way…This 250-pager is packed with strategies for how to outsmart a Goliath in business, government, or even between friends."
"Negotiating with Giants is entertaining and any one of its six chapters will unveil insights you'll want to pass along to a friend, colleague, or family member."
"Whether you're dealing with a banker, a landlord, suppliers, customers or employees, your success or failure is often wholly contingent upon your ability to get people onside…this is clearly terrain people are interested in learning more about."
"Unlike many negotiation books that require you to pinch yourself to stay awake through their dry, academic prose, Negotiating with Giants has an almost folksy style that easily carries the reader through the six chapters."
"This book has helped change the way I conduct business, and it's one I often recommend to others. Focused on winning against the odds, this book is all about the art of the deal. Answering everything from small negotiations with your spouse or kids to high stakes negotiation when you're the little guy trying to get your product on the shelves at Wal-Mart. This book is a great source of inspiration and tips to give you the edge when you're fighting to win at the table."
Contact us confidentially to learn more about our negotiation services at Negotiation Advice International (NAI) or to confirm our availability.
Cambridge, USA — Vancouver, Canada